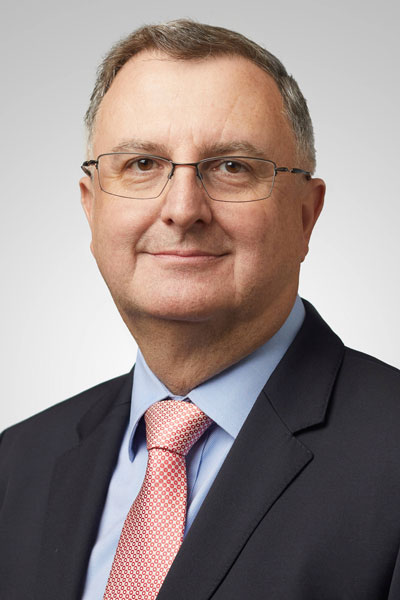 Mr Chris Salisbury
Chairman
BEng, FAICD
Mr Salisbury is a highly experienced mining executive, with over 30 years of global experience across senior strategic and operational roles for the Rio Tinto Group. He is a qualified metallurgical engineer and Fellow of Australian Institute of Company Directors.
Mr Salisbury brings extensive uranium experience having led operating companies in Australia and in Namibia. He was Chief Executive of Energy Resources Australia (ERA) between 2004-2008, a significant global uranium business and during his time an ASX 100 company. Mr Salisbury also served as Non-Executive Director of ERA. From 2011-2013 Mr Salisbury was Managing Director/Head of Country for Rio Tinto's Rössing Uranium Mine and was based in Swakopmund Namibia.
During his long career with Rio Tinto, Mr Salisbury also held executive roles across a diverse range of commodities including Chief Operating Officer – Pacific Bauxite and Alumina (2008-11), Chief Operating Officer – Rio Tinto Coal (2013-16) and most recently Chief Executive – Iron Ore (2016-20).
Mr Salisbury is recognised as a transformational leader delivering significant improvements across safety, productivity and culture.
Mr Salisbury has board experience beyond ERA including chair of the Robe River Mining joint venture, director of the Minerals Council of Australia and Australia Japan Business Cooperation Committee and was director of a number of non-listed Rio Tinto entities and joint ventures.
Mr Salisbury joined the Deep Yellow Board in May 2021.
Mr John Borshoff
Managing Director/CEO
BSc, FAusIMM, FAICD
Mr Borshoff is an experienced mining executive and geologist with more than 40 years of uranium industry experience. He spent 17 years at the start of his career as a senior geologist and manager of the Australian activities of German uranium miner Uranerz.
In 1993, following the withdrawal of Uranerz from Australia, Mr Borshoff founded Paladin Energy Ltd. He built the company from a junior explorer into a multi-mine uranium producer with a global asset base and valuation of more than US$5 billion at its peak.
At Paladin, Mr Borshoff led the team that completed the drill out, feasibility studies, financing, construction, commissioning and safe operation of the first two conventional uranium mines built in the world for 20 years. He also oversaw numerous successful, large public market transactions including acquisitions and major capital raisings before leaving Paladin in 2015.
Mr Borshoff is recognised as a global uranium industry expert and has a vast international network across the uranium and nuclear industries, as well as the mining investment market. He has a Bachelor of Science (Geology) from the University of Western Australia and is a Fellow of both the Australian Institute of Company Directors and the Australasian Institute of Mining and Metallurgy.
He is a member of the Uranium Forum within the Minerals Council of Australia (of which he is a former Board member) and sits on the Council of the Namibian Chamber of Mines.
Mr Borshoff was appointed Managing Director in October 2016.
Ms Gillian Swaby
Executive Director
BBus, FCIS, FAICD, AAusIMM
Ms Swaby is an experienced mining executive with a broad skillset across a range of corporate, finance and governance areas.
She has spent over 35 years working with natural resources companies in numerous roles including Chief Financial Officer, Company Secretary, Director and corporate advisor. Ms Swaby worked at Paladin for the period 1993 – 2015 in the capacity as Executive Director for 10 years and as GM – Corporate Affairs. She had a key role in managing the company's growth through mine development, operation, acquisition and exploration. This role included responsibility for the Company's complex corporate, legal, human relations and corporate social responsibility programs as an operating uranium miner in multiple African countries.
Ms Swaby holds a Bachelor of Business (Accounting) and is a Fellow of the Australian Institute of Company Directors (AICD), the Institute of Chartered Secretaries and Administrators, and the Governance Institute of Australia.
Ms Swaby joined the Deep Yellow Board in October 2005 as Non-executive Director. Her role changed to that of Executive Director, on a consulting basis, effective 1 November 2016.
She is a member of the WA Council of the Australian Institute of Company Directors.
Mr Steven Michael
Executive Director
BCom, CA, MAICD
Mr Michael has over 25 years' experience in the global resources sector, specialising in corporate finance and equity capital markets. He was previously a Managing Director at FTI Consulting, an independent global business advisory firm, was engaged by Vimy Resources as Interim CEO in August 2021 and subsequently made Managing Director in January 2022.
Mr Michael has previously worked in the natural resources division of Macquarie Bank, Rothschild & Co and Royal Bank of Canada, in global mining equities research and sales, corporate finance and investment banking. He was previously Managing Director of an exploration company with a portfolio of assets in Australia and Africa and Chief Financial Officer of an ASX-listed uranium exploration and development company with significant uranium resources in South Korea.
Mr Michael is a member of the Institute of Chartered Accountants in Australia and the Australian Institute of Company Directors.
Mr Mervyn Greene
Non-Executive Director
MA (Maths), MBA, BAI (Engineering)
Mr Greene is an experienced investment banker and entrepreneur who has been working in investment markets in Africa, Europe and the United States for more than 35 years. His most recent experience has focussed on private equity investment in a range of sectors, specialising in fin-tech, construction, general technology and property. He currently serves as co-founder and Director of EPIC, The Irish Emigration Museum and is co-founder and Chairman of Dogpatch Labs, Ireland's leading tech start-up hub and recently became the Chairman of the NDRC, the Irish government's national tech start-up accelerator. He leads, as managing director, both CHQ Dublin Limited and MGR Properties, specialised Irish property development companies. All these businesses are located in Dublin, Ireland.
From 1997 to 2005 Mr Greene was co-founder and London-based partner of Irwin Jacobs Greene, one of Namibia's premier stockbroking, private equity and corporate finance advisory firms. Prior to this Mr Greene worked for investment bank Morgan Stanley in New York and London.
Mr Greene has a Masters in Mathematics and Bachelor degree of Civil Engineering from Trinity College in Dublin. Mr Greene also has a Masters of Business Administration from London Business School.
Mr Greene was appointed to the Deep Yellow Board in November 2006 and was Chairman from August 2007 to August 2013.
Mr Greene serves on the Audit Committee and Remuneration Committee.
Mr Greg Meyerowitz
Non-Executive Director
BCom, CA, MAICD, FCA(ANZ), FFINSIA, MCA(SA)
Mr Meyerowitz is a chartered accountant with 36 years of experience in the professional services industry and commerce. As a senior audit partner at the international accounting firm of EY, and head of the Perth Audit Division for 10 years, Mr Meyerowitz has acted as the lead audit signing partner for five ASX 100 companies, including two ASX 20 companies. He has worked across a diverse range of sectors and has extensive experience working with mining and energy companies with global operations in countries such as Australia, Brazil, Finland, Indonesia, Italy, Malawi, Mauritania, Namibia, Sweden and the USA. This includes time spent in the uranium sector.
Mr Meyerowitz is currently the Group Risk and Compliance Director of APM Human Services International Limited, an ASX listed human services provider operating in 11 countries.
Mr Meyerowitz holds a Bachelor of Commerce Degree from the University of Witwatersrand, South Africa; is a graduate member of the Australian Institute of Company Directors; fellow of Chartered Accountants Australia & New Zealand; fellow of the Financial Services Institute of Australasia; and a member of the South African Institute of Chartered Accountants.
Mr Meyerowitz joined the Board of Deep Yellow on 1 December 2021.
Mr Wayne Bramwell
Non-Executive Director
BSc Mineral Science – Ext Met, Grad Dip Bus, MSc Mineral Science, GAICD
Mr Bramwell is a metallurgist and mineral economist, experienced director and mining executive with extensive project and corporate development, executive management and governance expertise in precious and base metal companies spanning nearly three decades.
He holds a Bachelor of Science in Extractive Metallurgy, a Graduate Diploma in Business, a Master of Science in Mineral Economics and is a graduate of the Australian Institute of Company Directors (GAICD).
Mr Mark Pitts
Company Secretary / CFO
BBus, FCA, GAICD
Mr Pitts is a Chartered Accountant with more than 35 years' experience in business administration, statutory reporting and corporate compliance.
He is a partner in the advisory firm Endeavour Corporate where he provides company secretarial, accounting, finance and compliance services to publicly listed companies across a range of industries but with a focus on the resources sector, including Deep Yellow. Mr Pitts has previously worked at a senior management level in a variety of commercial and consulting roles and started his career at accounting firm KPMG.
He is a registered Company Auditor and holds a Bachelor of Business from Curtin University and is a Fellow of Chartered Accountants Australia and New Zealand.
Mr Pitts was appointed Company Secretary in October 2005.
Mrs Ursula Loubser
Group Financial Controller
BCompt (Hons), GradDipCA
Mrs Loubser has more than 20 years financial management experience within the mining and private security industries. She has a commerce degree from the University of Stellenbosch (South Africa), is a provisional member of Chartered Accountants Australia and New Zealand and member of the Governance Institute of Australia.
Prior to joining Deep Yellow Limited in June 2008, she worked as financial manager with Finstone SA (Pty) Ltd, an international dimensional stone company. Prior to this, she held various financial manager and director positions with private security companies in South Africa.
Mr Andrew Mirco
Head of Business Development
BBus, GradDip-AppInv&Fin, GradDip-MinExplGeoSc
Mr Mirco is an experienced corporate finance and business development executive, with a successful and proven background in capital markets, M&A and risk management.
He has more than 25 years' experience in the resource sector, with over ten years at Paladin Energy Limited and prior to this held a number of senior roles at Woodside Energy Ltd. During his time at Paladin, he played an integral part in the Company's inorganic growth, leading to execution of M&A opportunities and asset sales. In addition, he led the project financing for Paladin's mine developments, as well as capital market raisings.
Mr Mirco holds a Bachelor of Business from Curtin University, Graduate Diploma in Applied Investment and Finance from the Financial Services Institute of Australasia (FINSIA) and a Graduate Diploma in Mineral Exploration Geoscience (Distinction) from Curtin University.
Mr Mirco was appointed as Head of Business Development in May 2021.
Mr Dustin Garrow
Head of Marketing
BAEc, MBA (Mgt)
Mr Garrow brings more than 40 years professional experience in global commercial nuclear fuel markets including marketing and sales contracting for natural uranium concentrates (U3O8), uranium conversion services (UF6) and enrichment services (SWU). He has direct transactional/market research experience with nuclear utilities, uranium production companies, and nuclear-related service firms located in North America, Western Europe, former Soviet Union and the Asia/Pacific regions including the People's Republic of China and India.
He has held senior marketing and sales management positions with U.S., Australian and Canadian uranium production companies and developed comprehensive uranium marketing/sales strategies including utility-specific sales proposals, and negotiated spot and multi-year sales agreements with gross valuation exceeding US$3.0 billion involving nuclear utilities located in Western Europe, United States and Asia/Pacific.
Mr Eduard Becker
Head of Exploration
MSc, MAusIMM
Mr Becker is an economic geologist with more than 40 years experience in all aspects of mineral exploration, including 30 years specialising in uranium.
Mr Becker spent the first decade of his career at Uranerz focussed on Australian projects and close to 20 years at Paladin Energy, until 2015. At Paladin, he conducted exploration for all types of uranium deposits and has managed programs applying all uranium exploration techniques.
Mr Becker's experience spans the entire lifespan of uranium operations from greenfields discovery, resource drilling, reserve estimation, project development, mining operations and due diligence assessment. While heading the exploration department for Paladin he oversaw organic resource increases of over 200Mlb U3O8.
He holds a Degree in Geology and Palaeontology from the University of Cologne and is a Member of the Australasian Institute of Mining and Metallurgy.
Mr Becker was appointed as Head of Exploration in October 2016.
Mr Darryl Butcher
Head of Project Development
BSc, FAusIMM, FAICD
Mr Butcher brings over 40 years' experience in the mining sector through corporate, operational, development and project management roles both in Australia and internationally. Mr Butcher is currently Project Manager of the Tumas Uranium Project.
Mr Butcher has been responsible for the development and operation of several operating mines in the gold, base metals, uranium, and iron ore industries.
Prior to his most recent role as Project Manager at Mali Lithium, Mr Butcher was Executive General Manager, Technical and Project Development for Paladin Energy Limited. Mr Butcher led a very successful innovation and optimisation strategy, resulting in significant improvements to the operating costs at both the Kayelekera Uranium Mine (Malawi) and Langer Heinrich Uranium Mine (Namibia). These gains were achieved predominantly through the innovative use of membrane technology in "world first" applications.
Mr Butcher holds a Bachelor of Science degree from the University of Western Australia in Chemistry (1979), is a Fellow of the Australian Institute of Mining and Metallurgy and the Australian Institute of Company Directors and is a founding director of BDB Process Pty. Ltd.
Dr Anthony (Tony) Chamberlain
Project Director – Mulga Rock
PhD (Metallurgy), Grad Dip Extractive Metallurgy (Mineral Science), BSc (App Chem Hons), AusIMM
Dr Chamberlain was Vimy's Chief Operating Officer from June 2014 to January 2018. During that time he guided the Mulga Rock Project through the PFS, PER and DFS processes and was involved in the acquisition of the Alligator River Project in 2017.
During his twenty years in the mining industry Dr Chamberlain has been involved in operations and project delivery, while also earning a PhD in Metallurgy from Curtin University. Dr Chamberlain has held a number of senior operational and management roles during twelve years with WMC Resources and later BHP Billiton, overseeing an expansion to the Kwinana Nickel Refinery in 2001 and spending a significant amount of time in China as Development Manager for BHP Billiton Stainless Steel Material Group.
Working across Australia, Asia, Africa and Eurasia Dr Chamberlain has gained solid technical experience in the management, development and delivery of projects, particularly uranium projects, around the world.
Mr Xavier Moreau
Australian Exploration Manager
BSc Applied Geology (Hons), MAIG, Member of Society of Economic Geologists
Mr Moreau was General Manager of Geology and Exploration at Vimy Resources since 2010. During that time he played a key role in large resource definition, baseline studies, metallurgical test work and permitting programs at the Mulga Rock Project. He was also instrumental in securing the Alligator River Project during Cameco's divestment process and ensured the successful first years of operation on that project.
Mr Moreau has over twenty years' experience in exploration and project development, having spent almost twenty years working on Australian projects, the majority of those being uranium projects. Mr Moreau served as the Chief Geologist of U3O8 Limited after being involved with Areva for over eight years in uranium exploration in the Northern Territory and South Australia and gold development projects in the WA Goldfields.
Mr Moreau was educated in France and Canada and holds an Honours degree in Geology.